In-House Production — November 5th 2022
TOQAQ MECIMI PUWIHT / Delphine rêve toujours
— Youth Production
Although Théâtre de la Vieille 17 offers certain performances of its adult productions with English surtitles, this show is only available in French. We apologize for any inconvenience.
Without the beating of the drum, the words will never come
By DAVE JENNISS
Directed by MILENA BUZIAK
Delphine is a young wolastoqey girl, dreamy and determined. Since her father misplaced the drum of his deceased muhsums, Delphine has set out to find it at all costs. One autumn day, as the wind picks up, Delphine is transported to the world of the forest spirits. There, she meets the porcupine, whose toilet water smells like swamp; an owl opera singer, a true diva of the woods; and Kiwahq, the terrible beast with a heart of ice that has escaped from the drum.
According to the ancient story of the Wolastoqey people, only a living being with the strength of a caribou, a quick mind and a heart as warm as the sun can defeat the Kiwahq by sending it back into the drum.
With his play TOQAQ MECIMI PUWIHT / Delphine rêve toujours, Wolastoqey playwright Dave Jenniss addresses the themes of transmission and identity and makes the language of his ancestors resonate as he reclaims it. This bilingual show in French and Wolastoqey is performed by indigenous and non-indigenous artists.
Ondinnok and Vieille 17 are honoured to be able to work creatively in Tio'Ta:ke and Odawa, magnificent territories where the Kanien'kehà:ka and the Algonquin Anishnabe have walked, dreamed and lived for thousands of years.  Miigwetch! Nià:wen! Merci! Thank you!
DURATION
50 min.
PERFOMANCES
Saturday November 5th at 11 am
FOR AGES 5 TO 9
SKAT TOLIHTESINUHK POKUHULAKON, KOLUSUWAKONOL OC MATE PECIYEWIYIL
Kisuwikhok TAPOT JENNISS
Pempawotaq MILENA BUZIAK
Delphine not ewasisuwit Wolastoqey pilsqehsis, psonopu puwyakonol naka sakolitahasuwakon. Tuciw mihtaqsol keskalat pokuhulakonol tepelomatpon muhsumsol, Delphine 'kisitahatomonehpon weci pskuwat tan ote etutawotik. Neqt toqaq spotew, macelamson, Delphine lipha skitkomiq eyultitit kcihqeyak cocahqok. Nit etolassiqat piskakomat matuwehsol, nucintaq tihtokol, naka Kiwahq, 'cel moshunol onsa pqom! 'Kisi oc nit pomkomon naka moskuwan pokuhulakonol?
Yut layyewakon TOQAQ MECIMI PUWIHT / Delphine rêve toujours, Wolastoqey nutuwikhiket Tapot Jenniss 'tuwehkanol pcitahkakon naka eli nonasik qenowehket latuwewakon 'cey 'kansuhs naka 'kisehtun pokotahqewiye. Yut nisonul latuwewakonol essakihtasik, Polecomoney naka Wolastoqey sakiyak Skicinuwok naka skat-Skicinuwok nutsakiyut.
Ondinnok naka Vieille 17 palitahatomoniya eli amalhi-kislukhotitit nit Tio'Ta:ke naka Atawa, wisoki-wolinaqok ktahkomiq Kanien'keha:ka naka Algonquin Anishnabe etoli kisuhsahtitit, puwihtahtitit naka wikultitit kehsamqahk likotonol. Woliwon! Merci!
Qentokok
50 minits
'CIW ETUCEYULTITIT 5 tokiw 9!
---
A THÉÂTRE DE LA VIEILLE 17 and PRODUCTIONS ONDINNOK coproduction
Text DAVE JENNISS
Director MILENA BUZIAK
Set and Lighting Design EMILIO SEBASTIAO
Sound Design MARIE-HÉLÈNE MASSY EMOND
Music written by MARIE-HÉLÈNE MASSY EMOND and EMILY MARIE SÉGUIN
Music performed by EMILY MARIE SÉGUIN and GENEVIÈVE D'ORTUN
Costume Design SAMANTHA McCUE
Tailoring and sewing MYLÈNE MÉNARD
Stage Manager ALEXIE MADORE CHARRON
Production Manager PASCALE LEMAY
Technical director of the tour and technician ALEXANDRA GENDRON
Artistic Directors GENEVIÈVE PINEAULT and DAVE JENNISS
With JEMMY ECHAQUAN DUBÉ or MARIE-PIER CHAMBERLAND GENEVIÈVE D'ORTUN, CHRISTIAN PILON and EMILY MARIE SÉGUIN.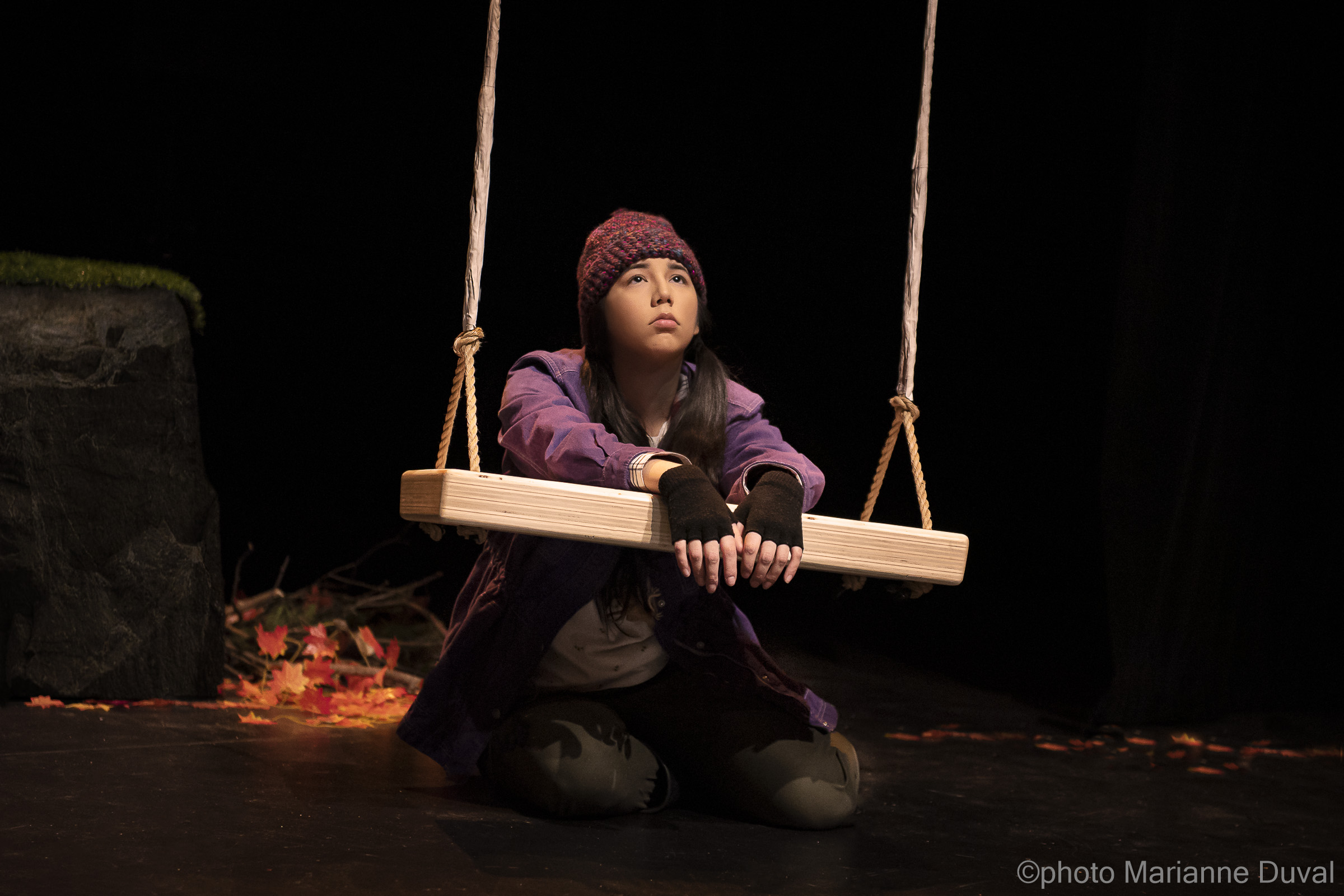 TOQAQ MECIMI PUWIHT/Delphine rêve toujours will be touring during the 2022-2023 season:
Les Gros Becs (Québec, Qc) November 9th to 13th 2022;
L'Arrière-Scène (Beloeil, Qc) November 20th to 24th 2022;
L'Espace Théâtre (Mont-Laurier, Qc) November 28th and 29th 2022;
Théâtre français de Toronto (Toronto, Ont) March 1st to 4th 2023;
Maison Théâtre (Montréal, Qc) March 28th to April 9th 2023;
Théâtre du Nouvel-Ontario (Sudbury, Ont) April 19th to 22nd 2023.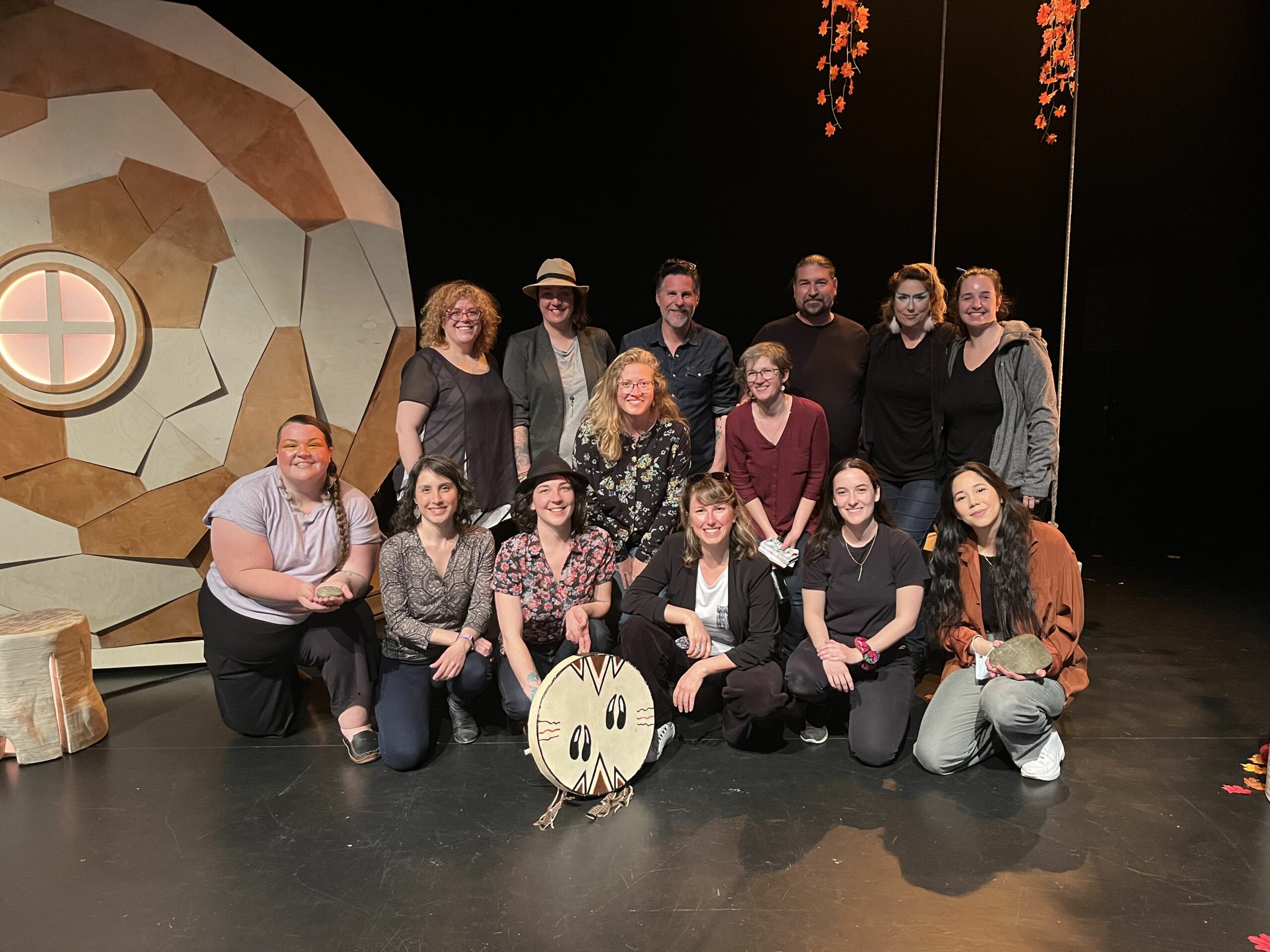 Created on May 7 and 8, 2022 at La Nouvelle Scène Gilles Desjardins.